COVID-19 safety and sanitization protocols by IORI STAY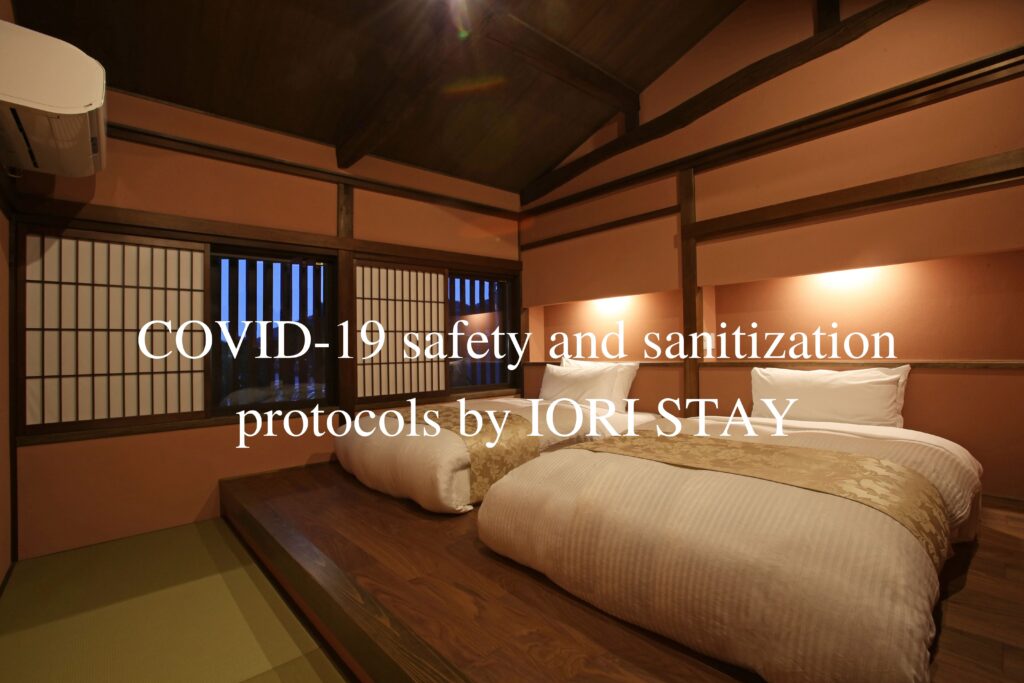 Since IORI STAY is a private vacation rental style, it can be used in a completely private environment, making it suitable for travel under Covid-19 pandemic.
We implement COVID-19 safety and sanitization protocols as below.
【FOR THE SAFETY OF GUESTS】
■CHECK-IN
We ensure that our staff check body temperature before coming to work and that they regularly disinfect the hands with alcohol-based hand sanitizer.
We make sure to wear masks and to ensure social distance.
We ask our suppliers to wear masks and to ensure hygiene management.
We instruct our staff to refrain from going out unnecessarily and to refrain from attending gatherings and events, as well as business dinner and meetings.
We will keep car windows open while providing a pick-up service.
■CLEANING
In addition to standard cleaning, we will make sure to disinfect rooms.
During the cleaning process, we will open the windows and ventilate the room sufficiently.
The room will be disinfected and ventilated again before the arrival of the customer.
■BREAKFAST
Breakfast will be delivered in disposable packs with disposable chopsticks.
The chef will disinfect using hand sanitizer when cooking.
We ask for your cooperation in cleaning up the dishes after your meal.
■USE OF PARTNER HOT SPRING
Due to infection control measures, the use of our partner hot springs (provided for guests of IORI SHIOROYAMA and IORI MIYAGAWA only) is currently suspended. We appreciate your understanding.
【REQUEST TO CUSTOMERS】
If you have traveled abroad within two weeks prior to the check-in date, you may not be allowed to use the room as per the policy against covid-19 by the government. Please be sure to inform us in advance.

We will check your temperature at check-in.
If you have a fever or strong fatigue, we may ask you to refrain from using the room in accordance with the policy against covid-19 by the government. If you are not feeling well, please let us know immediately.
If you have a fever or other symptoms on the day of your stay, or if you are a close contact with an infected person, we will refund the full cancellation fee.
Please wear a mask when you check in.
Please make sure that you avoid the "Three Cs", which includes close contact, confined spaces (with poor ventilation), and crowded places.
Please disinfect your hands frequently.
Please refrain from talking loudly to prevent splashing.
Please ventilate the room regularly.
If you feel unwell during your stay (such as breathlessness, fatigue, or high fever, or if you are prone to serious illness, or if you are pregnant and have a mild cold such as fever or cough), please let us know immediately.